RESULTS OF IMPLEMENTING
THE PROGRAMME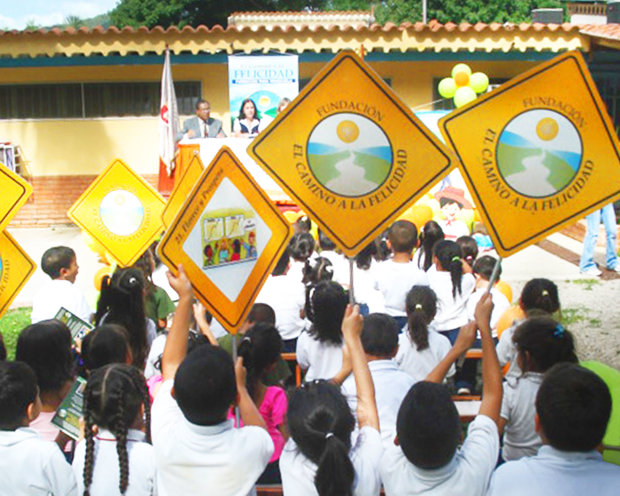 The effectiveness of The Way to Happiness and the impact of its activities are the reasons the Way to Happiness programme commands the respect and support of teachers, health instructors, school counsellors, police officers, community leaders, government officials, students and parents around the world.
Three hundred law enforcement agencies, government agencies and organisations have partnered with the Way to Happiness Foundation and are using the booklet, curriculum and materials.
The Way to Happiness Educator's Packages have been made available to more than 8,000 educators, human resource officers and correctional officers for use in schools, universities, correctional facilities and corporations throughout the world. More than 12,000 schools have used the Way to Happiness materials.
Prison programmes utilising The Way to Happiness have delivered an education programme in 1,500 correctional facilities in 38 countries to some 150,000 prisoners.
Through the support of the Church of Scientology, the Way to Happiness programme has become a global grass-roots movement that is bringing trust, sanity and calm to a troubled world.
The international network of volunteers and supporters of the Way to Happiness now spans 186 nations. Representatives from groups dedicated to improving moral standards continue to adopt this booklet for their own use.
GOVERNMENTS
The Way to Happiness doesn't compromise a person's existing religious beliefs or social status. In a sense, it is all-pervasive. Whether a Muslim or Hindu, even a nonbeliever, it can make a very telling message that is relevant to your own circumstances. —Prime Minister (Ret.), Republic of Guyana, South America
The Way to Happiness is a perfect tool for rehabilitating these youth. What distinguishes this organisation from other nongovernmental organisations is your philosophy and how to apply it to educate and rehabilitate people. You go a long way to ensure that your theory is matched with practise. I am thankful for the work you've done and look forward to a continued partnership to expand this programme. —Minister of Youth and Social Development, Lagos State, Nigeria
It is truly a guide to living a happy and productive life. The day-to-day challenges we face often seem insurmountable. However, honesty and kindness are contagious. The sharing of these traits will make our world a better place. —Undersecretary of the Army, Washington, DC
By encouraging young people to set a good example, supporting student efforts to get drugs off school campuses and helping to forward standards of honesty, trust and competence, the Concerned Businessmen's Association of America [employing the Way to Happiness programme] is to be commended and congratulated. Your programme is inspirational. Your determination is outstanding. Your message is phenomenal. To the businessmen involved with this remarkable programme, I extend my sincere congratulations. Your efforts will blaze a trail that others must certainly follow. —Former Governor, California
I commend you on your effort to show the various cultures of the world how to live in harmony. I look forward to the day when we all follow the principles that your book outlines. —United States Senator
LAW ENFORCEMENT
I am writing this letter in reference to one of the greatest books I have come across in quite a while—The Way to Happiness. As a police officer, many situations that I see, along with other officers, are often sad ones. So many people seem to be unable to pull within themselves to find good. The Way to Happiness book encourages people to search for the goodness within themselves and spread that goodness to others. Your book The Way to Happiness is the most needed set of writings that has ever been written down. The timing could not have been more perfect. Being in this line of work, your book has been a welcome insight. —Police Officer, Hartford, Connecticut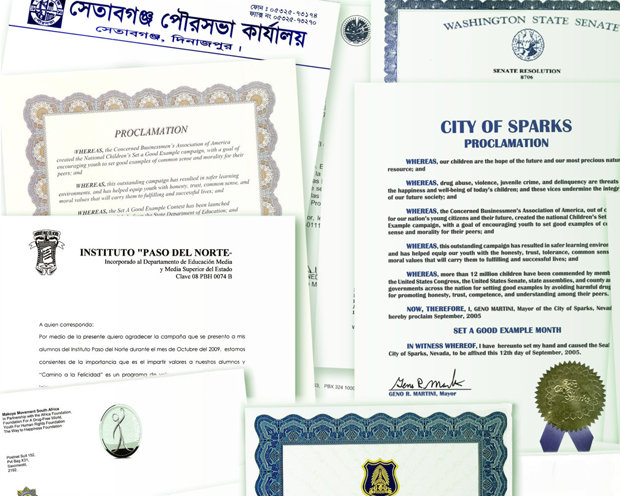 I want to give my sincere thanks for the seminars given to the 180 police officers covering the 21 precepts of ethics and morals from The Way to Happiness. These seminars have given us a good lesson and an understanding of the importance of being a police officer, which means setting a good example for the community and society. —Commander, Metropolitan Police, Bogotá, Colombia
The project, based on the book The Way to Happiness, has positively impacted several areas of my division. In these key areas, I have seen the project contribute to a decrease in crime, as well as result in positive improvement among members of the community. In one particular area, there was a decrease in crime by over 30 % in a 6-month period. —Captain, Police Department, Los Angeles, California
I would be out of a job, quite happily, if we used the Way to Happiness programme everywhere. If people had respect for each other, they wouldn't be doing bag snatches. There would be no assaults or domestic violence. There would be no theft. There would be no crime, really, if everybody stuck to the rules of The Way to Happiness. —Senior constable, Chiefly Local Area Command, New South Wales, Australia
COMMUNITY LEADERS
I think The Way to Happiness booklets is most useful in giving structure to families where it is lacking or not effective. Since positive values are the basic foundation for building a strong family life, this booklet can help by focusing on trust, love, honesty, the Golden Rule and enhancing life rather than destroying life. —Family Services, California
Your book offers many no-nonsense suggestions for living a healthy, drug-free life. We are fortunate to have organisations like yours assisting in the drive towards healthy living. —Deputy Director, Citizens' Advocate Office, Colorado
AFTER
using
THE WAY TO HAPPINESS
with our
STUDENTS,
there was
NO FIGHTING, NO VIOLENCE
and
NO TROUBLE. A COMPLETE REVERSE
of what had been
OCCURRING BEFORE.
The book The Way to Happiness should be an inspiration to everyone. By following the advice contained in the book, there is no doubt that all will benefit personally and successfully across life's path. —City Mayor, California
We frequently refer our employees to the book to help them work out personal problems. Frankly, the book is a contributing factor to our success. —Executive training officer, Burbank, California
The Way to Happiness gives me strong, stable tools to use to clarify the real issues involved with staff, vendors and in solving contract issues. It enables me to do the right thing and make sound ethical decisions. It is a powerful tool for today's business world. I highly recommend The Way to Happiness to anyone in business and in life in general. —Vice President for Computer Technology, International Media and Entertainment Company, U.S.
EDUCATORS
The Way to Happiness provides valuable guidance to my class. The junior high school age range is a questioning period for youth and your booklet is just what the students need. It makes them think, and establishes values all too often missing in today's world. —Teacher, California
After using The Way to Happiness with our students, there was no fighting, no violence and no trouble—a complete reverse of what had been occurring before. —School Headmaster, Tel Aviv, Israel
The Way to Happiness is important because it establishes a framework for what young people are going to do with the rest of their lives. You're talking about a pathway. You're talking about an opportunity to start to make some decisions that can govern your future. The Way to Happiness is something that every superintendent strives for. —Superintendent of City Schools, New York
With the support of the Way to Happiness Foundation, more than 1 million copies of The Way to Happiness were distributed in Palestine and Israel. It is making a big difference. It can play the role of rehabilitating both peoples. The Ministry's Committee on Improving Education has directed all school counsellors to teach the Palestinian children using The Way to Happiness. —Deputy Secretary of Education (Ret.), Palestinian Authority