CITIZENS COMMISSION ON HUMAN RIGHTS
DEFENDING HUMAN RIGHTS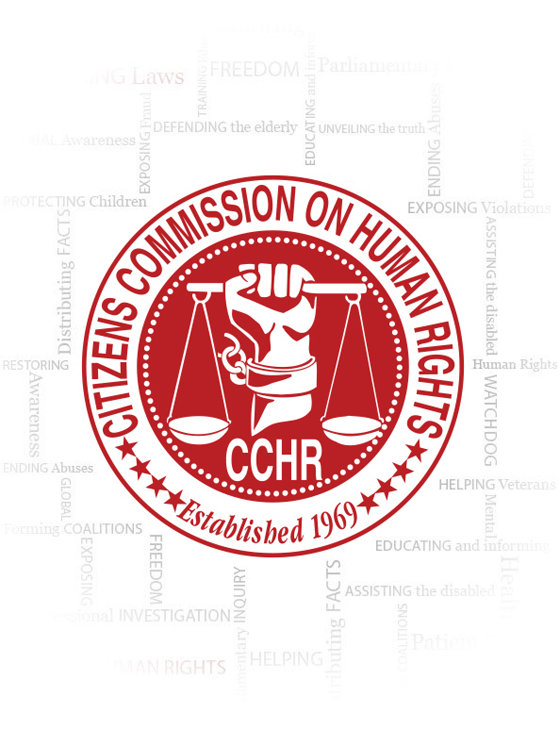 As part of their religious code, Scientologists pledge "to expose and help abolish any and all physically damaging practices in the field of mental health," and thereby bring about an atmosphere of safety and security to mental healing.
Accordingly, in 1969, Scientologists established the Citizens Commission on Human Rights (CCHR), a watchdog group that investigates and exposes psychiatric violations of human rights. Today, CCHR is a worldwide force actively working to eliminate brutal treatments, criminal practices and human rights abuses in the field of mental health. It has been responsible for helping to enact more than 150 laws protecting individuals from abusive or coercive practices in the field of mental health.
Working alongside medical professionals, CCHR is dedicated to eradicating abuse and enacting patient and consumer protections. CCHR's Board of Advisers, called Commissioners, includes doctors, scientists, psychologists, lawyers, legislators, educators, business professionals, artists and civil and human rights representatives.
In the 1970s, the Church of Scientology exposed the existence of psychiatric work camps in South Africa where blacks were exploited as slave labourers and cooperation was enforced with electric shock. Those charges of abuse were investigated and confirmed by the World Health Organisation and the American Psychiatric Association. Subsequently, CCHR presented testimony to South Africa's Truth and Reconciliation Commission and obtained a national government inquiry into psychiatric racism.
Working with like-minded groups and African tribal leaders, CCHR is continuing to fight for the rights of all Africans to be free from mental health abuses.
"I thank the Church of Scientology, particularly the Citizens Commission on Human Rights, for exposing the most horrendous practices of the apartheid system of mental treatment of people.… CCHR became a real thorn in the side of the apartheid government, and of course it was for the better for those who suffered from those conditions. So thank you very much."
DR BEN NGUBANE, FORMER MINISTER OF ARTS, CULTURE, SCIENCE AND TECHNOLOGY, SOUTH AFRICA